Introduction of the Manual Candle Machine (Candle Molding Machine)
Manual Candle Making machines are especially suitable for the Beginners. For candle producers who want to produce many kinds of candles, manual candle machines are the first choice too. They are the most common machines for making candles now. Although they are called manual machines, they can provide big output capacity as well. With an investment of less than USD10,000, a small-scale candle plant can have 3-8 machines which can produce 8,000-30,000 candles per Day (8 working hours). These candles can be in different kinds and styles. Just 2 or 3 persons can easily handle these machines.
Another advantage of the manual candle machine is, it does not need any electricity. Some automated candle machines are alleged to have big output capacity. But meantime they are all big power consumers - 20KW or 40KW per hour.
Handling a manual candle machine doesn't need special skills or special training. Any adult, man or woman, can learn how to use it in short time. The maintenance is simple and easy too. You don't have to have a technician to take care of it. It can work all the days - no need of periodical downtime for maitenance.
Manual machines are durable too. A good machine can work for 20 or 30 years. Of course, it should be handled correctly. Just carefully read the User Manual and watch the video we give you, you will know within 2 hours how to handle them correctly.
Because of these advantages, manual candle machines are widely used to make various kinds of candles. Almost all household candles are made with manual machines. Besides, over 70% of other candles like pillar candle, tealight candles and taper candles are made with manual machines too. Meantime, some candles can be made only with the manual machine, like the spiral candles and votive candles.
How does the Manual Candle Making Machine work?
Here is a Video Clip on Youtube.com: http://www.youtube.com/v/HcYxhdq3eSs
You can Click Here to View the video too, orClick Here to download it to your computer.

Manual Candle Making Machine, also called as Pouring-type Candle Machine or Candle Molding Machine, does not need power supply.

It has many built-in candle molds fixed inside a water tank. To make candles, firstly, the wax is heated and melted in a Wax Melter. After being melted, the wax is poured into the candle moulds. Then it is cooled by the circulating water, and turns back to solid. The candles are shaped within 15-20 minutes when the wax is fully solidified. Eject them out of the candle molds by rotating the handle, one batch of candles is finished.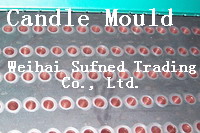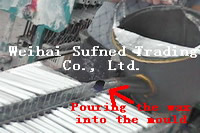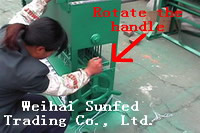 What kinds of candles can the Manual Candle Making Machine produce?
It can produce almost all the kinds, including the normal Lighting Candle, Pillar Candle, Spiral Candle, Taper Candle, Votive Candle, Church Candle, Tea-light Canlde, and some Floating Candle etc.
Candles with long length and small diameter, such as the lighting candle, spiral candle and taper candle are mostly made by the Candle Moulding Machine.
With the Manual Candle Making Machine, the candle length (height) is adjustable, but the candle diameter is un-adjustable.
But some non-regular-shape candles can not be produced by this machine. If you want to make them, you will need individual candle moulds (
Click Here
). We also provide the technology of making and using such candle molds.
How many Types of Manual Candle Making Machines do you have?
For all Manual Candle Making Machine, we have following following 2 types:
Type A, with candle moulds in 2 rows,
Type B, with candle moulds in 4-8 rows.
Besides, we have a Type C for producing the normal Lighting Candles. It has candle moulds in 4-8 rows, and a clamp for collecting the finished candles.
How large area, and how many workers do I need to set up a candle plant?
One Manual Candle Making Machine needs 0.5-1 operator, takes about 2*2 M2 of working area.
Of course, you will need some other area for storage and other facilities.
How many candles can I produce with one Manual Candle Making Machine?
This depends on the size of your candle and the machine type you use. For example, to produce normal Lighting Candles of 30gr/pc, you can get within 8 hours:
2,560pcs (77kgs) with Type A, or,
6,720pcs (200kgs) with Type B, or,
9,000pcs (260kgs) with Type C.
The above data are for reference only. The production capacity depends on the water temperature, working condition, workers skill and other things as well.
How can I choose a suitable candle machine?
First, please check the candle type you want to produce. For example, whether it is the normal Lighting Candle, Pillar Candle, Spiral Candle, Taper Candle, Votive Candle, Church Candle, Tea-light Candle, Floating Candle or Special-shape Candle.
Second, please check the specifications of your candle, including the length, diameter, weight and color etc.
Third, please check the production capactity you want to have per day or per hour.
Or, you can just let us know your requirements. We will choose the most suitable machine for you. Click here to
send Inquiries
or
Contact Us
.
Can you customize a machine for me?
Yes. Just let us know the specifications of your candles.
What other things do I need to set up a candle plant?
2. Candle Materials. Please
Click Here
to view all details.
Why should I choose your machines?
1. Because of our expertise. We have the experiences of over 30 years in making candles, and over 20 years in making candle machines.
2. Because of our good product quality. Our machines have the following advantage:
1) Simple machine design, Easy to operate and maintain,
2) Durable machines, Long working life,
3) Good production quality,
4) High production efficiency,
5) Reasonable price,
6) Quick and professional technical support.
3. Because of our good service.
a) We provide full and practical production formulas, quick and professional technical support. They are all free during the whole working life of the machines.
b) We can provide all candle materials, including the paraffin, candle wick and candle additive. You will get a One-Stop service from us.