Wax Powder Making Machine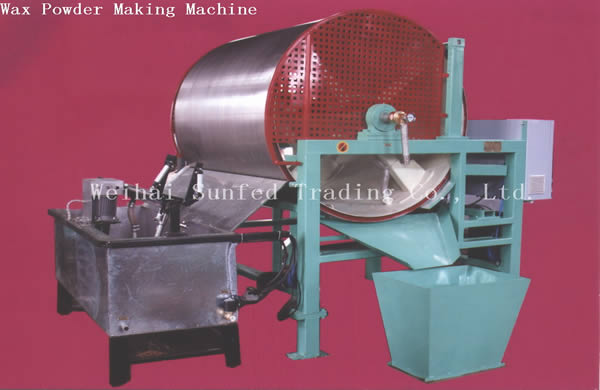 Wax Powder Making Machine

Wax Powder
The Candle Pressing Machines need paraffin powder as the raw material. You can buy the wax powder from your local market or, use the Wax Powder Making Machine to porudce the powder.
The Wax Powder Making Machine consists of wax melting system, spraying system, rotor drum (with cooling water inside), water/steam inlet and outlet, water tank, wax powder conveying system and other components. The wax is melted into liquid, sprayed into the rotor drum (with cooling water inside) where the cooled wax is granulated into powder and conveyed to the outlet.
It has the advantage of high efficiency, low energy consumption, non pollution, low noise, easy and safe to operate, stable working condition and reasonable price.
The wax granules made by this machine are fine and uniformly sized, can be used to make various kinds of wax products.
This machine can be connected with the Automatic Tea-light Candle Machine (Model # CLZ) and Automatic Tea-light Candle Machine Production Line
(Click Here)
to realize automatic and continuous production with high efficiency.