Manual Candle Making Machine for Pillar Candles
Click Here

to view the introduction of the Manual Candle Making Machine.
Pillar Candles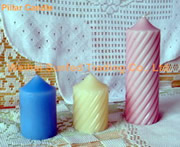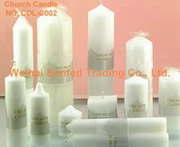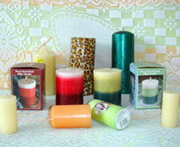 This Manual Candle Machine for Pillar Candles (Candle Moulding Machines), also are suitable for making the Church Candles or 7 Days & 7 Nights Candles.
We have 2 types of Manual Candle Machine for Pillar Candles.
One is Pin Type. It has wick pins in each candle mold. The wick pin is used to make a hole at the center line of the candle. Coated candle wicks (i.e. pre-tabbed candle wicks, Click Here to see more), will be inserted into the holes after the candles are taken out of the molds.
The other one is Wick Type. The candlewick for this type is the raw candle wick. Raw wicks have already been inserted into the candle moulds before they are filled with melted wax.
Pin Type Wick Type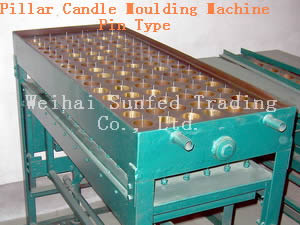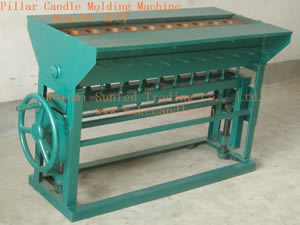 Specifications
Model# SFDY is Pin Type, Model# SFCY is Wick Type. Customization available.
Model #

Candle Size

Candle

Quantity

Batches

Output

Output

Dimension

BottomØ X TopØ X Length

Weight

of

per

Qty

Qty

L X W X H

(MM)

(G/PC)

Moulds

Hour

(PCS/Hour)

(KG/Hour)

(CM)

SFDY36A

36x95

76

80

3

240

18

140x50x90

SFDY36B

36x95

76

120

3

360

27

140x50x90

SFDY40A

40x39x100

105

72

3

216

23

140x50x90

SFDY40B

40x39x100

105

108

3

324

34

140x50x90

SFDY204A

50.8x49x102

180

60

3

180

32

140x50x90

SFDY204B

50.8x49x102

180

90

3

270

49

140x55x90

SFDY206A

50.8x49x152

267

30

3

90

24

140x55x90

SFDY206B

50.8x49x152

267

60

3

180

48

140x55x90

SFCY210A

50.8x49x254

440

30

2

60

26

140x55x90

SFCY210B

50.8x49x254

440

60

2

120

53

140x55x90

SFDY253A

60x58x76

190

52

2

104

20

140x55x90

SFDY253B

60x58x76

190

78

2

156

30

140x55x90

SFDY303B

76x75x76

300

40

2

80

24

140x55x90

SFCY306A

76x75x152

580

20

2

40

23

140x55x90

SFCY306B

76x75x152

580

40

2

80

46

140x55x90

SFCY309A

76x75x229

880

20

2

40

35

140x55x90

SFCY309B

76x75x229

880

40

2

80

70

140x55x90